How to Thicken Caramel Sauce? In the mood for dessert, but you have no idea what happened to your caramel sauce and why it's not thick enough? We hear you! You can always count on your favorite ice cream topped with thick and delicious caramel sauce to put you in a good mood; besides being a simple and quick dessert, caramel sauce can make anything taste better. The reason why today we'll be sharing with you everything you need to know about how to thicken caramel sauce.
A creamy and thick caramel sauce is what makes a quality dessert; it can be used diversely and is also quite adaptable, so learning a basic caramel sauce is a must. But if your homemade recipe isn't working for some reason, then you've noticed that the thickening struggle is real. If, for some reason, your caramel sauce recipe is coming out too thin, do not fret; not all is lost.
There are a few different ways you can thicken your caramel sauce, so no need to throw it away. You may think it's a lot of work but firstly, who likes a thin caramel sauce secondly, the process of making it thicker is quite simple. That said, there are important steps you need to keep in mind to salvage your caramel sauce and give it back its natural consistency.
How to Thicken Caramel Sauce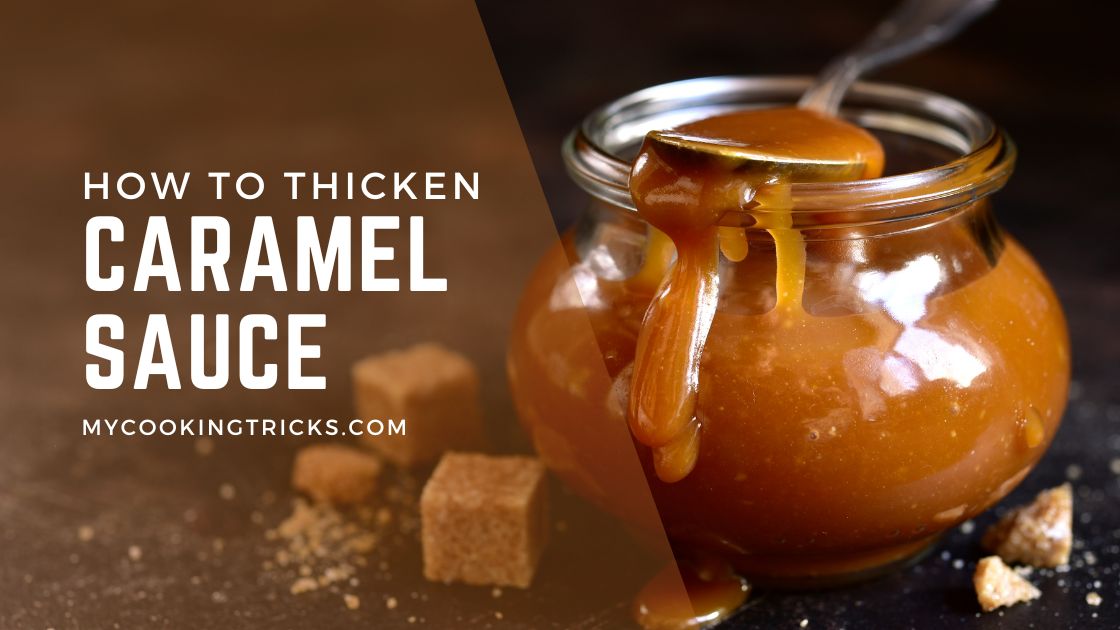 Method 1: Stove method
Simmer the sauce on your stove. Try cooking for about 10 minutes for a thick sauce. As the liquid in the caramel sauce evaporates, you'll be left with a thicker sauce.
Let the hot caramel sauce cool. If you're unsure if your freshly-cooked sauce is the right consistency, let it cool first.
Re-heat and simmer refrigerated sauce. If you've bought thin caramel sauce from the store, you can also thicken it on the stovetop.
Method 2: Cream method
You can substitute regular milk for cream if you think your caramel sauce may not thicken properly. Heavy whipping cream is naturally thicker than milk. As such, when you use it in your caramel sauce, it quickly thickens. The whipping cream will taste the same as milk in the final product but produce a thicker sauce.
Recommended Product
This ultra-pasteurized cream has a smooth texture and rich flavor. Organic Valley heavy whipping cream contains a minimum of 36% butterfat for robust taste.
Silver medal winner at the International Dairy Competition, Organic Valley Heavy Whipping Cream contains a minimum of 36% butterfat and easily transforms into fluffy deliciousness for any sweet occasion.
Desserts, sauces, and soups can all get a boost of delicious creaminess from Organic Valley Ultra-pasteurized Heavy Whipping Cream.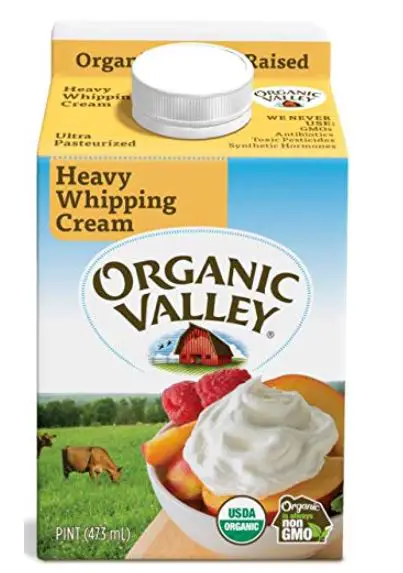 Features:
USDA Certified Organic
Free of GMOs, antibiotics, synthetic hormones, or toxic pesticides
Smooth texture and rich flavor
Method 3: Cut down on the milk method
Reduce the amount of milk. If you want a thick caramel sauce, cut down on the amount of milk that the recipe suggests. Cut the amount of milk that you would typically use by half. For instance, if you were going to use two cups, reduce this amount and use only one cup.
Leave out about 1/3 or 1/2 of the recommended milk. This will result in a caramel sauce that's thicker and that you won't have to spend extra time simmering.
Method 4: Add more sugar method.
Most caramel sauces are made by caramelizing sugar and adding milk and a little salt. If you increase the amount of sugar in the recipe, you'll end up with a thicker caramel.
Try increasing the sugar by about 1/3. The amount of milk suggested by the recipe will leave you with a thick caramel sauce.
Method 5: Cornstarch method
One tablespoon of cornstarch and one tablespoon of water is all you need to thicken a cup of caramel sauce.
Mix the water and cornstarch, and then pour it into the caramel sauce.
Ensure that you keep the sauce on low heat, as it has a high propensity to burn.
Let it cool down and watch the sauce thicken.
Recommended Product
To thicken stews, soups, or gravies, mix with cold water to prevent clumping, then slowly stir into hot liquid, boiling and stirring for one minute.
For one cup of cake flour, combine ¾ cup and 2 tbsp all-purpose flour with 2 tbsp corn starch. Twice the thickening power of flour.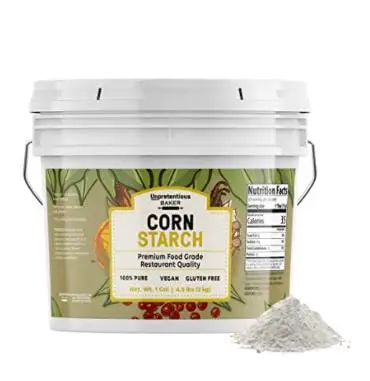 Features:
Food & USP Pharmaceutical Grade
All-Natural
Vegan
Method 6: Flour method
If you are out of cornstarch, chances are you have flour somewhere in your pantry.
You will need to mix the flour with water.
The amount of water you will need is ¼ cup of cold water for every 1 cup of caramel sauce.
Then mix two tablespoons of flour into the water.
Make sure that it's cold water. Mix well, and add this mixture to the caramel sauce.
Stir the sauce regularly until it takes on a thicker consistency.
Recommended Product
Flourish Fiber from the Farm flour is made from just one ingredient: wheat. It tastes and bakes as great as traditional all-purpose flour but provides higher fiber and lower net carbs and calories.
This all-natural nutrient-rich wheat flour is carefully milled to deliver an excellent source of prebiotic fiber supporting your family's digestive health.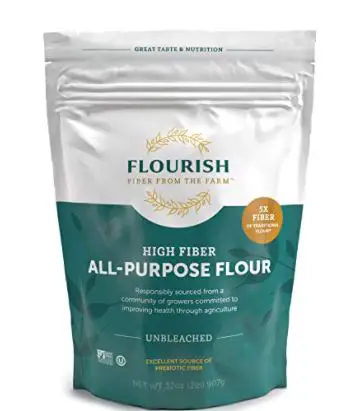 Features:
High fiber content
non-GMO variety of wheat
Lower net carbs and calories.
Common Questions Regarding How to Thicken Caramel Sauce
How do you thicken caramel sauce without cornstarch?
If you don't want to use cornstarch or don't have it on hand but want a thickener that will not alter the glossy color of the caramel, try tapioca flour. Simply add a small amount to your sauce to thicken it. Start with about 1 tsp and whisk it into the sauce until fully dissolved.
Can you harden caramel sauce?
Once your caramel sauce it's done, it will naturally harden as it cools down, and you'll have to heat it again to use it.
That said, if you want to turn it into a more spoonable sauce, you can always add other ingredients. A good idea to achieve this would be adding butter or cream to the melted caramel.
Why did my caramel sauce not set?
If caramels are too soft, that most likely means that the temperature didn't get high enough. It only takes one to set off a chain reaction, and before you can even react, you end up with crunchy caramel.
The easiest way to prevent this from happening is to brush down the sides of the pan with a little water once the mixture comes to a boil.
How to reduce the sweetness of the caramel sauce?
If you have used too much sugar in your caramel sauce and it is now overly sweet, removing some of the excess sugar can help reduce its sweetness.
The easiest way to do this is by melting down your caramel and then pouring it into a dish containing unsalted butter.
How do you fix caramel sauce?
Though this caramel sauce is really quite amazing without any additions, here are just a few ideas for adding a little kick to a basic caramel sauce recipe:
Stir in 1/4 cup of your favorite fruit juice or cider to add a unique flavor to your caramel.
Increase the salt to one teaspoon to make a fabulous salted caramel sauce.
Add in half a vanilla bean (or one teaspoon vanilla extract) at the end for a vanilla caramel sauce.
Melt in a tablespoon (or three) of unsalted butter when adding the salt to make a rich, buttery caramel.
Mix in 1/4 cup of your favorite alcohol to make a boozy caramel sauce (dark rum is a delight).
How to use caramel sauce?
Once you have prepared a homemade caramel sauce, there are many ways to use it up. Check out a few uses, besides the ones you already know; and don't forget you can always eat it plainly:
Stir a tablespoon or two into hot coffee and add warm, frothed milk to create a homemade caramel macchiato.
Whisk a couple of tablespoons into warm apple cider to create a sweet Caramel Apple Cider.
Drizzle caramel sauce on top of your favorite breakfast treats, such as muffins or scones, to add a decadent twist to your morning.
Use as a dip for fresh fruit.
Heat the caramel and spoon it over ice cream to create the perfect ice cream sundae.
Add a few large spoonfuls when making buttercream to give the frosting a hint of caramel flavor.
Drizzle over pies and cheesecakes to add a unique flair.
Spread on the bottom of a cookie and sandwich with another to create a caramel-filled cookie sandwich.
How to make a perfect caramel sauce?
Ingredients:
1 cup granulated sugar
1 cup heavy cream, warmed
1/2 teaspoon salt
Directions:
In a large saucepan over medium heat, mix granulated sugar and 1/4 cup water. Scrape the downsides of the pan and let sugar boil, without stirring, until sugar reaches a golden amber color.
Remove sugar from the heat and rest for a full minute before pouring in warmed heavy cream. Whisk vigorously to incorporate the cream. If the caramel seizes up, place caramel back over medium heat and stir until sugar melts once again and caramel becomes smooth. Stir in salt.
If the caramel is too thin, simmer it on medium heat for 5-10 minutes to thicken it.
How to store caramel sauce?
To store, keep refrigerated in an air-tight container.
How to warm caramel sauce?
To warm your caramel sauce, place it in the microwave for 30 seconds to heat through.
Does caramel sauce thicken in the fridge?
Yes, it will thicken in the fridge. The colder temperature will cause the sauce to thicken as the water molecules will slow down and condensed.
Will homemade caramel sauce thicken as it cools?
The sauce will thicken as it cools. The viscosity will increase as the sugar molecules form into a more ordered structure. You can prevent this by adding a little bit of water to the sauce as it cools. This will keep the caramel from getting too thick and hard to work with.
If you find that your sauce is too thick, you can always thin it out with a little bit of water or milk. Just be careful not to add too much, or you'll end up with a runny sauce.
Now that you know how to thicken and thin your caramel sauce, you can experiment with different consistency levels to find the perfect one for your needs. Just remember to have fun and enjoy the process!
How do you fix runny caramel sauce?
To fix runny caramel sauce, you can add a little cornstarch or cream to thicken it. You can also heat it on the stove until it thickens. If it's still too thin, you can add more sugar. If it's too thick, you can add a little water or milk. Finally, if the flavor is off, you can add a little more salt or vanilla extract.
Now that you know how to fix runny caramel sauce, put your skills to the test!
Additional Tips on How to Thicken Caramel Sauce
A candy thermometer can be used to determine the temperature of caramel or watch as it begins to brown and darken in color.
Caramel thickened and cooled can be used in many food recipes, such as sweets, bread, sauces, and frostings.
If the sugar becomes too dark, it may turn the caramel bitter.
Keep in mind that the caramel will thicken significantly once cool likewise if the caramel is too thick, thin by stirring a tablespoon or two of heavy cream.
Please keep a close watch on your sauce as it thickens. Stir the caramel constantly. Otherwise, you'll be left with a batch of too-think caramel.
If you're concerned about burning the bottom layer of your cold caramel sauce, start the burner on low heat until the sauce has started to warm up.