How to Clean Flat Top Grill? Flat top grills are a fantastic way to whip up any meal and for any occasion. Flat top grills have been a staple for the modern professional chef's kitchen for centuries. However, if you wish to keep your investment for a long time and make the most of it, proper care and maintenance are a must—the reason why we'll be telling all about how to clean flat top grill.
You've probably been enjoying the great benefits of cooking on your flat top grill, but you lose it all if you neglect to clean and maintain your grill correctly. You'll risk ruining the stainless steel non-stick surface, and areas of your grill might not heat and cook evenly.
But don't worry, though it may seem like hard work; it doesn't need to be a cleaning nightmare if you make a habit of it. In fact, with the right tools and tips, cleaning your grill is an easy maintenance step that will soon become second nature. Check out how to clean the flat top grill and more helpful info.
How to Clean Flat Top Grill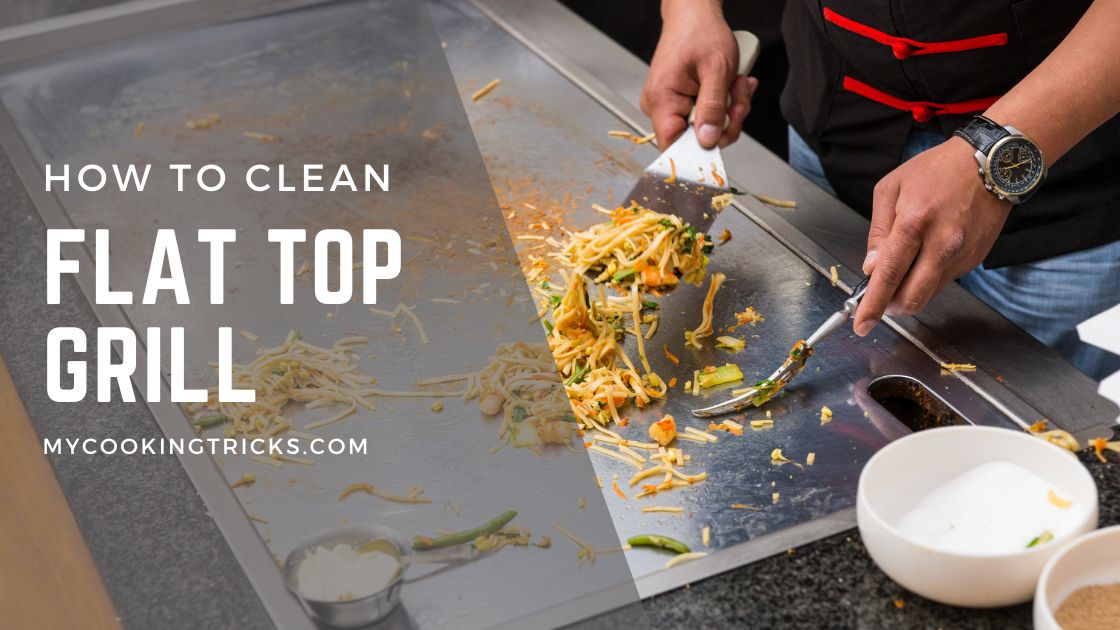 Method 1: Vinegar
Make a half-and-half solution of vinegar and water, then slowly pour it onto your hot grill surface.
Clean the surface with your grill scraper or brick as needed.
When finished, drain the excess liquid and wipe it down with a cloth towel or rag.
Recommended Product
From cleaning to cooking, Lucy's 5% Distilled White Vinegar is simply the right choice. Spices up, dipping sauces develop flavor, and much much more.
White vinegar for cleaning works fantastically. Not only does Lucy's Distilled White Vinegar add rich and robust flavor to your cooking, from marinades and dressings to baking and pickling, but this vinegar is also a powerfully natural, chemical-free cleaning agent able to remove heavy-duty stains and make undesirable odors vanish.
Lucy's has perfected and crafted an incredible preservative-free Distilled White Vinegar with carefully balanced ingredients and multiple trials.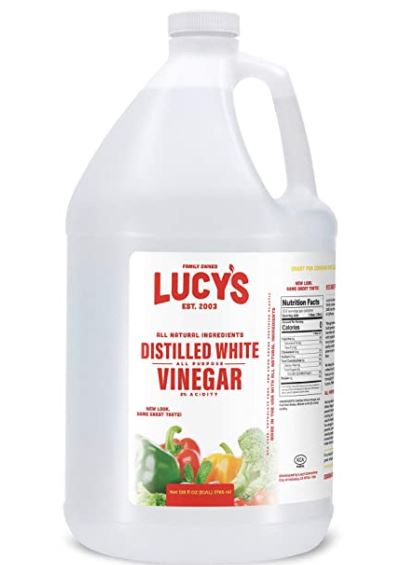 Features:
Multi-purpose
Kosher
Preservative-free
Method 2: Lemon Juice
Mix a solution of about ¼ lemon juice with ¾ water
Spray it onto the surface
Slowly wipe away grease and grime
Method 3: Dish soap and wire brush
This is an excellent option for cleaning a burnt flat top grill. Heat your grill on high for about 20 minutes. Then, let it cool.
Scrub using dish soap and water solution with a wire brush.
Once your grill is clean of rust and gunk, coat it with oil to preserve the clean grilling surface and prevent future rust.
Wipe away excess oil with a paper towel or rag.
Make sure you cover it to protect it from the elements.
Recommended Product
Suitable for different surface types, they will address all your cleaning concerns. The brushes serve other purposes.
The stainless steel wire brush can be used for rust removal, while the nylon brush is perfect for delicate household appliances. The brass brush is ideal for cleaning metal surfaces without scratching them.
The handles of each wire brushes for cleaning are slightly angular for an optimum grip. Made with high-quality plastic, they will last you a long time. 7-inch long, they are easy to pop in your toolbox or handbag.
Features:
Multiple uses
Ergonomic design
Portable
---
Common Questions Regarding How to Clean Flat Top Grill
What is a flat top grill?
Flat top grills, also known as griddles, are exactly what they sound like outdoor cooking appliances with a large, flat cooking surface. Gas burners typically heat them from below, though some use charcoal or pellets. Because the cooking surface is solid, the food never comes in contact with the flame.
Where does the grease go on a flat top grill?
The grease that would typically drip down the open grate of a traditional grill, causing flareups, remains on the surface until you push it away into a grease trap.
Is a griddle the same thing as a flat top?
A grill is heated from below with straight heating elements that run the grill's length, whereas a flat top has multiple round heat elements. It's an ordinary range top with individual burners and a continuous flat cooking surface over the burners.
How to choose a flat top grill?
If you are in the market for a flat top grill, then consider the following:
What will you be cooking, and in what quantity? Flat top grills are typically rated based on the total cooking surface area, listed in square inches. A larger surface gives you more room to cook, while a smaller surface is better for camping or tailgates.
What is the BTU number? British Thermal Units (BTU) measure the output of the burners. A higher BTU number means more heat.
How is the grease managed? You'll need to clean grease traps often, so they must work well.
What are the types of flat-top grills?
The most common looks much like a traditional gas grill with the top cut off. Most have a hanger for a 20-pound propane tank on one side of the grill cart (some may hook into your natural gas line) and two or four wheels. Two shelves on either side of the cooking surface provide a place to prep foods and set ingredients.
Compact, tabletop flat-top grills with small cooking surfaces are handy for camping or tailgating. These are typically heated with a small propane canister, like the one you'd use with a camping stove.
Some flat-top grills resemble the hibachi you might find at a Japanese steakhouse. Of course, any flat top grill will allow you (with practice) to replicate your favorite teppanyaki.
Instead of buying a flat top grill, you could add a griddle surface to the existing propane or natural gas grill.
Recommended Product
With sturdy feet for enhanced stability, this tabletop grill is perfect for small outdoor cooking events, like camping and tailgating,
Three separately controlled burners offer an overall 25,500 BTUs cooking power; with a simple push of integrated piezo igniter, they ensure fast and even heating.
This tabletop grill comes with a 316 sq. in. cooking surface. It comes with a removable, slide-out grease cup that collects oil residue while cooking and is easy to clean up after use. The griddle top is also detachable for washing.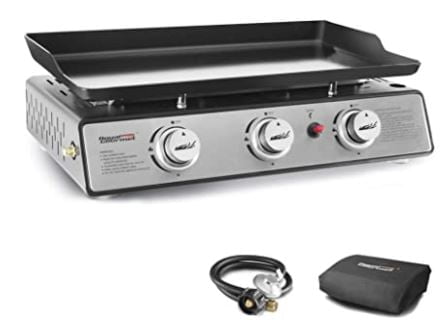 Features:
Portable
Easy cleaning
Even heating
What do you use to clean a flat top grill?
Cleaning the flat top grill with vinegar and water mixture will help you eliminate troublesome fats that remain on the grill after use.
How do you clean a flat top grill after cooking?
Let the grill cool down after cooking.
Scrape the surface with a metal spatula or scraper
Wipe it down with a paper towel. You can use a dishcloth.
For stuck-on food, pour some water onto the griddle while it's still warm. The hot water will make it easier for the harder residue to come off;
Rub a cleaning sponge gently on the surface
Rinse off the water with paper towels
Dry it gently with a cloth
Coat with a layer of oil in between uses
What do you use to clean a griddle grill?
The only items you will need are a flat-edged metal spatula, some paper towels, and some water, plus a drop of dish soap if your griddle is dirty. Make sure to clean your griddle while it is still hot. Don't let grease and food particles cool and bake onto the metal surface.
Can you use vinegar to clean a griddle?
Pour 1/2 cup of vinegar onto the griddle surface and spread the liquid evenly across the entire surface. Do not allow the vinegar to pool. Rub down the griddle surface with a rag and apply small concentric circles until the surface is polished. Scrape the vinegar into a grease trough and discard.
What should you do before using your flat top grill?
Conditioning (seasoning) your flat-top grill cooking surface is important to keep rust from forming, much like with a cast iron pan.
Before the first use, clean the flat top thoroughly, heat a thin film of oil on the cooking surface, and carefully spread it on the surface with paper towels (and heat-proof gloves or tongs).
Then periodically repeat this process to create a non-stick surface. Using the cooking surface frequently helps maintain the non-stick qualities.
---
Additional Tips Regarding How to Clean Flat Top Grill
A great option to clean your flat-top grill is lemon juice. The acidic properties do great job-fighting gunk and will leave your stainless steel surface with a beautiful shine.
Clean the grease traps frequently to keep them from overflowing. Do not flush it or put it down the garbage disposal because cooking grease can clog your drain lines.
Don't let the kiddos fiddle with the griddle when you're cookin'. So, if you have small kids, always keep the griddle under adult supervision.
Don't leave any plastic bags, containers, or other flammable materials close to the griddle top. This can be a fire hazard.
Cook in an outdoor space with enough ventilation. This is for safety in case you can't notice any propane leaks.
If you can smell gas, stop cooking – cover the propane tank with a damp cloth.
How to Clean Flat Top Grill Tutorial Video