How to Thicken Tomato Soup? Craving that perfect, creamy, and delicious tomato soup? We hear you; we're getting closer to that time of the year. However, sometimes a recipe not always goes as planned. Quality tomato soup has a special kind of thickness, and if you love it as much as we do, then learning how to make it the right way is a must. The reason why today we'll be sharing with you everything you need to know about how to thicken tomato soup.
Thicker tomato soup is an easy and yummy recipe that you easily replicate at home. But if your homemade recipe isn't working for some reason, there are several fixes you can try. If, for whatever reason, your tomato soup recipe is coming out too thin, do not panic; there's light at the end of the tunnel.
There are a few different ways you can thicken your homemade tomato soup, so there is no need to get rid of it and start all over again. These techniques or methods are actually quite simple; that said, there are essential steps you need to keep in mind to transform your tomato soup into a masterpiece. Check out the different ways you can thicken tomato soup, and feel free to pick your favorite method.
How to Thicken Tomato Soup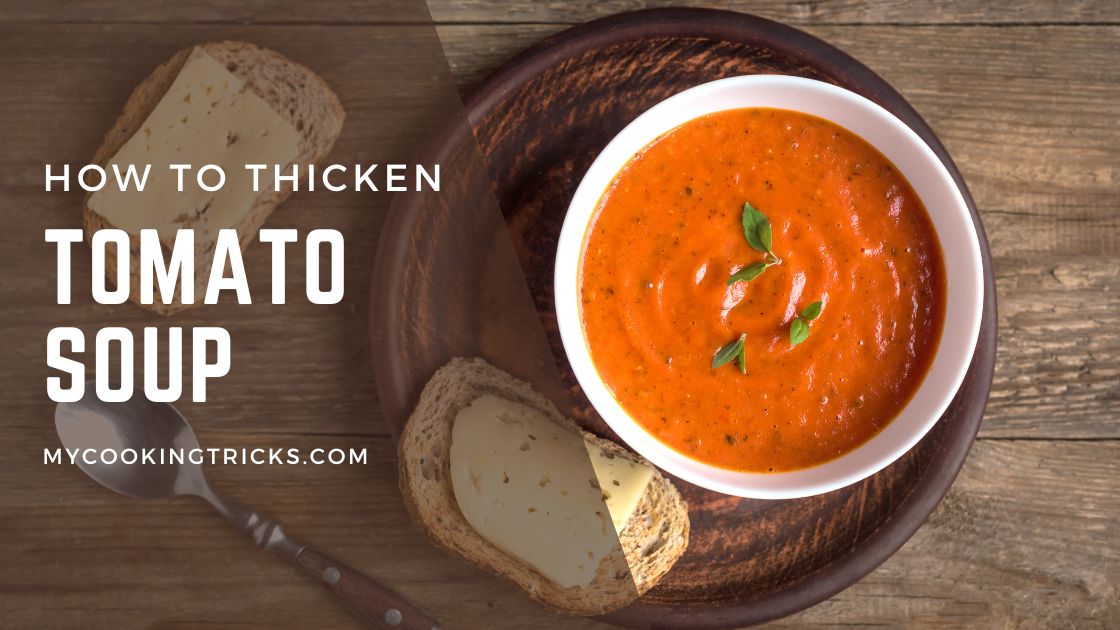 Method 1: Simmering Method
This method is straightforward because it doesn't even require any ingredients. It works because you allow the excess liquid to evaporate by simmering your soup. This will cause it to thicken and make the flavors of your ingredients even more concentrated.
You need to have time on your side to achieve the desired results using this method. So, if time is not an issue, you can give it a go.
Once your soup is boiling, reduce the heat to low and let it simmer. Your soup needs to be boiling. Otherwise, it won't evaporate.
Give it an occasional stir so the soup won't stick to the bottom and sides of the pot.
---
Method 2: Tomato Paste Method
Tomato paste is just another word for tomato puree, so adding it to your tomato soup makes sense.
A few spoonfuls of tomato paste is enough to do the job.
Start with just one and stir your soup thoroughly to dilute it.
Check the taste and consistency first before adding another tablespoon of paste.
---
Method 3: Roux Method
A roux is a combination of equal parts flour and butter.
Melt butter in a pan over medium heat.
Add equal amounts of flour and stir until golden brown.
And then, ladle a bit of the soup into the roux and stir until it boils.
This will ensure that the flour is cooked. Otherwise, you'll get a starchy flavor in your soup.
Pour the roux over your soup and keep whisking until you achieve your desired thickness.
---
Method 4: Cream Method
You've probably had creamy tomato soup before. Adding cream is popular because it makes the soup incredibly creamy and velvety.
Start with two tablespoons of cream.
Add it at the last few minutes of cooking the soup.
Let your cook simmer for 10 minutes, and it will thicken nicely.
Please don't leave it cooking for longer because that will cause the cream to curdle.
---
Method 5: Eggs Method
Eggs actually do a fantastic job at thickening your tomato soup. In addition, they make your soup more flavorful; it is a win-win.
Whisk two eggs in a bowl until frothy.
Pour a ladle of soup into the bowl and whisk vigorously until incorporated. This process is known as tempering.
Pour the egg mixture into the soup and stir until thick. If you want a super-rich soup, use just the yolks. If you prefer a lighter soup, use the whites.
---
Method 6: Starches Method
Starches are perhaps the safest method to thicken your tomato soup. You can choose between cornstarch, arrowroot, and tapioca.
Dilute a tablespoon of starch in cold water.
Add the mixture to the soup once it's nearly done cooking.
Keep stirring until the soup thickens to your desired consistency.
Recommended Products
This cornstarch is effective in thickening stews, soups, or gravies, mix with cold water to prevent clumping, then slowly stir into hot liquid, boiling and stirring for one minute.
For one cup of cake flour, combine ¾ cup and 2 tbsp all-purpose flour with 2 tbsp corn starch.
Add to batters for coating chicken and help them fry to crispy and flaky perfection—twice the thickening power of flour.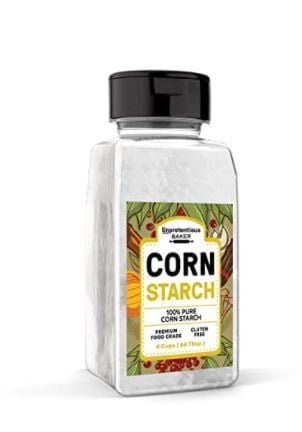 Features:
Does not contain Soy, MSG, milk, eggs, peanuts, tree nuts, gluten, aluminum, preservatives, and fillers.
---
Arrowroot Powder is incredibly versatile and can add a bit of crispiness and fluffiness to your baked goods and thicken your sauces and gravy.
Kate's arrowroot powder/starch is a perfect healthy choice for anyone on a Paleo diet. Great substitute for cornstarch or wheat; it is a premium, high-quality stand-up pouch with a resealable zipper for maximum shelf life.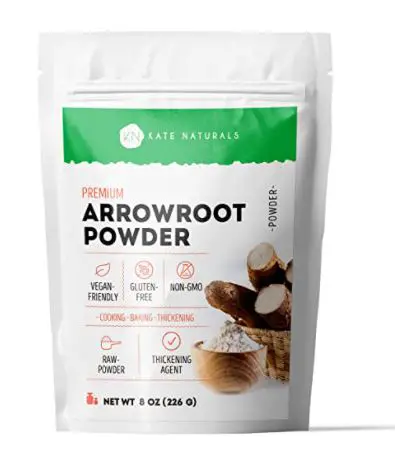 Features:
Food grade and Non-GMO
Gluten-free
Alternative to cornstarch and wheat
---
Tapioca is one of the purest forms of starch-based food. Sometimes labeled as "Tapioca Starch," this Organic Tapioca Flour is extracted from a starchy vegetable known as Cassava root. This grain-free flour is unmodified and perfect as a thickener in soups and sauces.
Tapioca flour can add some great rising power and fluffiness to the batters of gluten-free baked goods. The texture of tapioca also helps gluten-free bread and other goods to have a slightly elastic texture, even without gluten.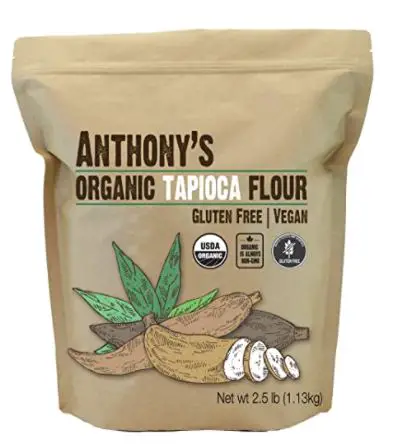 Features:
USDA Organic
Gluten-Free
Vegan, Non-GMO
Tasteless and Odorless Flour
---
Common Questions Regarding How to Thicken Tomato Soup
Why do soups need to get thickened?
Soups do not always require thickening because there was an error made in adding too much water. The presence of vegetables that let out much water, like lettuce, spinach, and the likes, can make your soups watery if you do not pay particular attention to avoiding this.
Some particular soup recipes have provisions for the use of thickening agents, and while this might be optional for some, it is very much part of the cooking process.
How do you make tomato soup less watery?
There are a few different things you can try to make your soup less watery; depending on your specific preference, you could choose among the following ideas:
Add a thickener, such as cornstarch.
Simmer the soup for a longer period.
Add fresh diced tomato and a little fresh basil before serving.
Add tomato paste; start with something less than a tablespoon per quart.
Add sun-dried tomatoes, finely chopped.
Serve the soup with croutons or a little shaved parmesan cheese.
What can I do if my soup is too watery?
Depending on the season, you may or may not want your soup a bit thicker. For instance, you may enjoy something lighter; however, winter comes, and you will definitely enjoy something a bit thicker to keep you warm.
However, putting too much water in a soup makes it so liquid that we cannot really enjoy the texture; then what do you do?
Do not panic; you can always try to remove as much broth as possible with a ladle and let the cook reduce your soup. Some cooks like to thicken their soup with flour or cornstarch to get a smooth result. If it is still too liquid, you need to add something that can absorb the excess of liquid.
How can I thicken the soup without flour?
If flour isn't on hand in your pantry, you can always thicken your soup with alternative methods, such as adding pasta, rice, tapioca, or potato to your liquid.
How do you thicken homemade soup?
Thickening soup can be achieved by trying a few different things; feel free to pick whichever method best suits you.
Add cream or yogurt. Adding extra cream can thicken a creamy or blended soup; stirring in a spoonful of thick yogurt can be more effective. Be careful not to boil the soup once you've added the cream or yogurt, or it may split.
Blend in bread. Pieces of bread can be blended into the soup to thicken it. Soak the pieces of bread first to soften them and make the blending easier. Bread would add body to a fresh-tasting tomato soup without changing the flavor.
Add lentils. Blended lentils are also an excellent alternative to add body to a soup. Red lentils work in tomato soups. Cook them until they're tender, then blend them into the soup.
How to Thicken Tomato Soup Additional Tips
If employing the simmering method, it is crucial to simmer the soup uncovered. When the pot is covered, the steam just gets stuck in the pot instead of evaporating.
If adding pieces of bread to your tomato soup, use a milder flavored bread not to change the soup's flavor, or use sourdough if you want to add a more robust flavor.
If you are making a roux to thicken your soup and it is too thick, add more soup, but if it's thin enough to pour, it's ready.
Aside from cream, you may also use coconut milk or cream, half and half, and whole milk. Yogurt works, too, if you like a tangy flavor in your soup.
Starches are a popular thickening option since they act fast and have a neutral flavor, which will not affect your soup's taste.
What other type of soup are you interested in knowing how to get the right consistency? Perhaps you would like to know How to Thicken Gumbo?