Do you know How to Thicken Gumbo Soup? Learn how the get the job done with these seven methods. We are sure from one Gumbo soup lover to another; if you struggle with getting the right consistency and you are not getting there, you are in the right place. There are so many rules to making gumbo that it can be intimidating, especially if you've recently taken to cooking it at home.
Gumbo is a dish that requires a lot of patience; a really great gumbo takes the better part of a day to make, from prepping the ingredients to making a roux to simmering everything low and slow. Many mistakes may impact the consistency and flavors of the dish. But don't get too hung up about it; no two gumbo recipes are alike.
That said, an essential requirement of gumbo is that it needs to be thick, or at least it is how most people enjoy their gumbo, thick and hearty. So if you've decided to make this popular recipe, you should first and foremost learn how to thicken gumbo. Luckily, there are several ways to do it.
How to Thicken Gumbo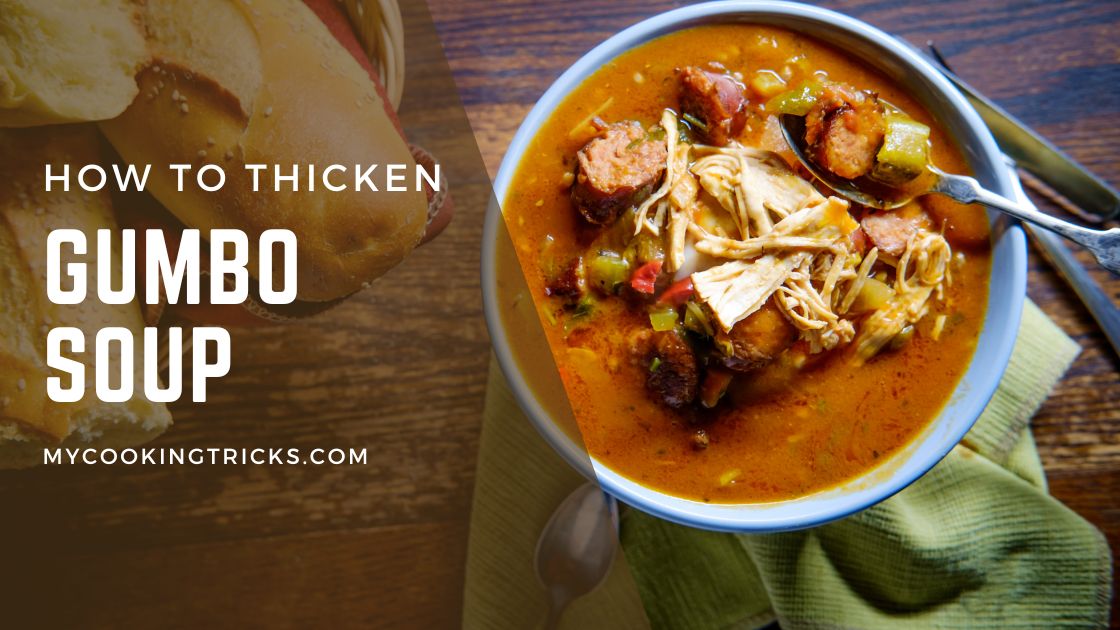 Method 1: Roux Method
Using a skillet, heat your vegetable oil or animal fat over medium heat. Be careful when using butter, as butter can get bitter when overheated.
Gradually add flour while whisking it to avoid lumps. Add a small portion at a time. Please wait for it to dissolve before adding more.
Stir continuously. Do not leave your roux unattended, as the flour can easily get toasted. If it starts to smoke, it can turn bitter, and there will be no reversing it. You'll have to start over. Set aside. Now that you have your roux ready, you can use it to thicken your gumbo.
---
Method 2: Cornstarch Method
Add about two tablespoons of cornstarch to the pot
Slowly pour some chicken broth into it.
The broth will absorb the cornstarch and make it thicker until you cannot see any of the cornstarch when stirring.
---
Method 3: Flour Method
This excellent thickening method can be used if you do not have cornstarch or don't want to use a roux.
Add about one tablespoon of flour into the pot, then slowly pour some chicken broth into it.
The broth will absorb the flour and make it thicker until you cannot see any of the flour when stirring.
---
Method 4: Vegetable Soup Base Method
A vegetable soup base is really thick and will add an excellent flavor to the gumbo and make it thicker than water.
Add one pack of vegetable soup base into the pot.
Add about 1 cup of water into the pot and stir until it is dissolved.
Then slowly add in more water until you reach your ideal thickness.
---
Method 5: Chicken Soup Cream Method
Another way to thicken gumbo is to use cream of chicken soup.
Add one can of cream chicken soup, then add it into the pot and stir until it dissolves in the broth.
Allow this to cook for a few minutes more before serving.
---
Method 6: Cornmeal Grits Method
Add 1 cup of cornmeal, then add water and mix until it is nice and smooth with no lumps in it.
As you put the mixture into the pot, be sure to stir in one direction smoothly so that there are no clumps
Add as much water as needed to get the consistency that you want.
---
Method 7: Simmering Method
f you don't want to add anything or don't have any in the house, just let it simmer. Simmering will take about 10 minutes longer than it would if you did not have time to wait for your gumbo to thicken.
---
Common Questions Regarding How to Thicken Gumbo Soup
What is Gumbo?
Gumbo is a southern American dish popular in Louisiana and around the Gulf Coast. It was initially made by slaves from West Africa to use every part of the animals they hunted or grew.
What is Gumbo Made Of?
Gumbo is made of Chicken, okra, rice, and different spices, depending on which region you are from in Louisiana. Gumbo is eaten with your hands and has many different variations in the recipe.
Can Gumbo be Made at Home?
This popular dish can be found in restaurants and can be perfectly made at home. Gumbo is easy to make but is very time-consuming.
Reasons to Make Gumbo Thick?
The broth is usually made from chicken stock, with okra and tomatoes in it. Although gumbo is a delicious dish, it gets very runny when served, so most people look for ways to make it thicker.
The thicker the gumbo is, the more likely you will eat it without getting messy from using your hands.
Is it Easy to Make Gumbo Thick?
The thickness of the gumbo depends on how long you cook it and if you put thickening in it. Some seasonings may be added to give an extra kick of flavor, spices like garlic powder, celery seeds, thyme leaves, etc.
What is a Roux?
Most gumbo recipes begin with roux, the foundation for the entire dish. Roux is flour browned in fat (like oil or butter) to thicken and flavor gumbo and other Cajun dishes.
How to Thicken Gumbo Additional Tips
A pot of gumbo's quality relies on the quality of the ingredients used. Make sure all of your ingredients are fresh.
To develop a deep roasted flavor in your gumbo, you should cook your roux, careful not to burn until it is a deep dark brown color.
Constantly stir the roux until it develops a light brown peanut butter color. Continue cooking while stirring continuously until it develops the color of dark coffee. This can take up to 45 minutes to an hour, but it will be worth the wait.
If you don't use enough flour, the roux will be watery. You want to add enough flour to your fat until the roux is like a paste.
Your vegetables should consist of onions, celery, and green bell peppers. Make sure all veggies are chopped in the same fashion for a similar size.
Make sure you add your protein in the correct order. Ideally, you want to add the chicken first, then the andouille and shellfish last, because it cooks the fastest.
Always begin cooking your gumbo with stock and not water.
Add your okra towards the end of cooking, allowing it to steep and the okra slime to develop in the finished product.
When making the dark roux, if there is butter in the recipe, substitute it with oil instead.
How to Thicken Gumbo Tutorial Video