How to Thicken Mac and Cheese? In the mood for yummy, comforting, and creamy mac and cheese? We hear you! You can always count on mac and cheese to put you in a good mood; besides being a simple and quick recipe, mac and cheese taste fantastic when done right. The reason why today we'll be sharing with you everything you need to know about how to thicken mac and cheese.
A creamy and thick cheese sauce is what makes quality mac and cheese. But if your homemade recipe isn't working for some reason, you know the thickening struggle is real. If, for some reason, your mac and cheese recipe is coming out watery, do not fret; not all is lost.
There are a few different ways you can thicken your mac and cheese, so there is no need to throw it away. You may think is a lot of work but firstly, who likes soupy mac and cheese and secondly, the process is quite simple. That said, there are essential steps you must keep in mind to salvage your mac and cheese and give it back its right consistency.
How to Thicken Mac and Cheese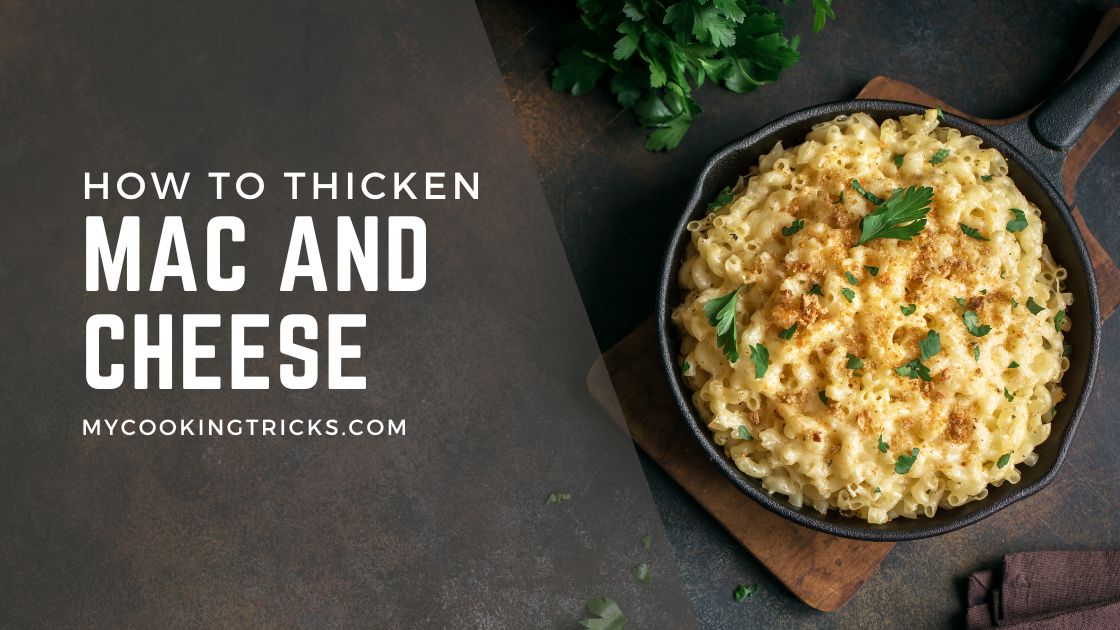 Method 1: Egg Yolk
Tools:
A bowl of cheese sauce
One egg yolk
One saucepan
One bowl
One whisk
Steps:
Use a small bowl and crack the egg yolk inside. Whisk it well.
Pour the cheese sauce slowly inside the bowl to get one cup of this mixture.
Once it is mixed, you can pour it back into the hot sauce bowl.
Put the cheese sauce in the saucepan on medium heat. After that, you can whisk it slowly to blend the mixture well.
Continue to stir until you have your desired texture.
Recommended Product
Velveeta Original Cheese Sauce brings a touch of liquid gold to your meals. Pour it over pasta, vegetables, nachos, and hotdogs. It is also great to use for pasta, homemade mac, and cheese.
When cheese cravings strike, satisfy them with this melted cheese product, the whole family loves. The soft, smooth, and creamy cheese sauce brings a burst of cheesy flavor to any meal with the original Velveeta taste you know and love.

This 12-ounce box of cheese sauce comes ready to squeeze in three individual pouches, making it a quick, convenient addition to your hassle-free meals and snacks. Melt and enjoy.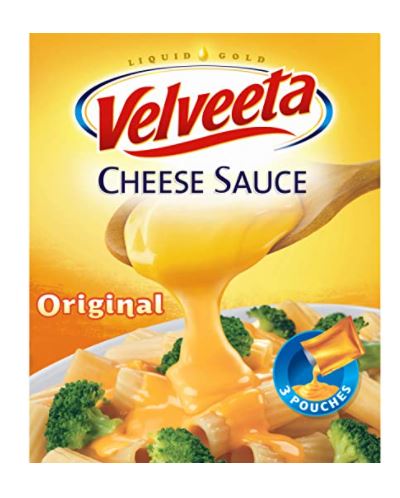 Features:
One box of three four oz. pouches
---
Method 2: Add More Than One Cheese
Tools:
Shredded cheddar cheese or grated cheese
One saucepan
Steps:
Pour the cheese sauce inside the saucepan at low heat.
Stir it constantly.
Then add the extra cheese inside to the thicker sauce and stir the mix well.
When it reaches your desired texture, let the sauce cool so the sauce can get even creamier.
Recommended Product
This cheese offers a nice flavor and creamy consistency.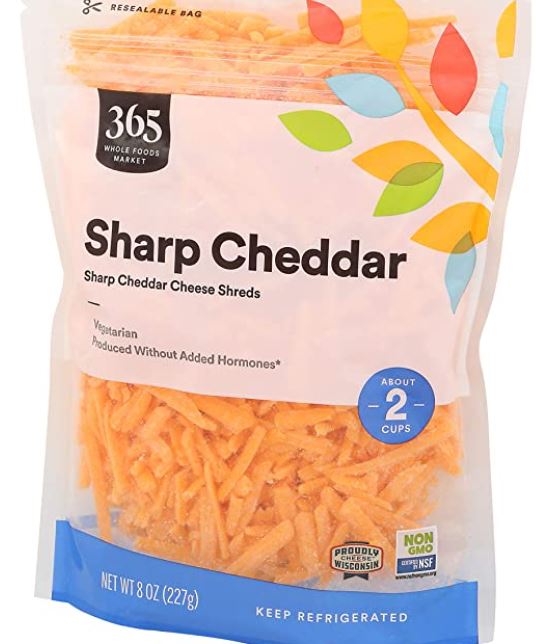 Features:
Cheddar Cheese
Powdered Cellulose
---
Method 3: Evaporate the Excess Liquid
If you don't have any of the ingredients to make your mac and cheese thicker, do not worry; you can try to evaporate the excess liquid by heating the cream cheese-like thickening pasta sauce. This will adjust the ratio and make your sauce creamier.
Put on a saucepan at low heat. Pour in your cream cheese and stir well.
Simmer the saucepan when it is hot enough. After that, you need to check the texture constantly to get your desired texture. It is important not to boil the sauce as it can burn quickly and change your cream sauce texture.
---
Method 4: Cornstarch
Flour or cornstarch can both thicken a liquid.
Tools:
1 to 2 tsp of flour or cornstarch
½ cup of water
A saucepan
A bowl
A wooden spoon
Steps:
Whisk together equal parts of flour and cold water in a small bowl to make a slurry.
Stir the slurry into the cream sauce one teaspoon at a time.
Simmer the sauce for about 5 minutes to get rid of any raw flour taste
Check the thickness of the sauce if it reaches your desire
Recommended Product
Anthony's Corn Starch dissolves seamlessly into your favorite recipe while acting as a thickening agent. Tasteless and odorless, our Corn Starch allows for the consistency of your favorite recipe to be perfected without altering the taste profile.
Corn Starch is a popular ingredient used in thickening soups, sauces, gravies, custards, and making sugars and corn syrup. It is recommended to mix corn starch with a liquid at low temperate to form a paste.
This Organic Corn Starch is Gluten-Free, making it a great substitute for gluten and grain-filled flours and thickeners.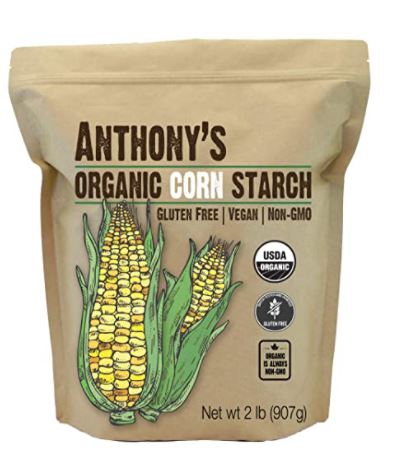 Features:
USDA Certified Organic 100% Pure Corn Starch
Gluten-Free
Tasteless
Odorless
Non-GMO
---
Common Questions How to Thicken Mac and Cheese
How do I make macaroni and cheese thicker?
Cheese sauce begins as a classic béchamel, milk thickened by flour that has been browned in melted butter. To thicken a cheese sauce, you must return to the béchamel base. This can be done in a few ways depending on what's in your pantry and how quickly you need the sauce to come together.
This is considered the easiest way to thicken your cheese sauce without the risk of altering the flavor. Turn the heat up to medium and simmer, constantly stirring, until the sauce thickens.
Make a new béchamel sauce in a separate pot. Once thickened, add the new béchamel sauce to the milky cheese sauce, and simmer until combined and desired thickness is achieved.
Why are my mac and cheese soupy?
If you struggle to make your homemade mac and cheese creamy and thick, the problem may be a disproportionate ratio. Your cheese sauce becomes runny because of its extra liquid content. It means you might have poured more water or more cup of milk than your cheesy sauce requirement. There should be enough particles to suspend the watery part for fluid to have a good thickness and stickiness.
When pouring a cup of liquid with viscosity particles, the watery part will have to drag the particles inside and make the fluid viscous.
How do you thicken mac and cheese with flour?
Flour is one of the popular thickening agents in many dessert recipes. So, it is completely reasonable to use it to thicken your soupy cheese sauce. You can make a cheese sauce with cornstarch instead of flour as well. Similar to thickening salad dressing.
Tools:
½ cup of water
1-2 teaspoons of cornstarch or flour
One saucepan
One wooden spoon
One bowl
Steps:
Take out a small bowl and put flour and cold water inside with a ratio of 1:1.
Whisk them well to create a slurry for your cheese sauce.
Pour one teaspoon of slurry into the cream sauce at a time. This action gives you better control over the consistency of the cheese sauce.
Put the cheese sauce on a saucepan and simmer it for 5 minutes. Hot liquid will help to remove any raw flour taste inside the mixture.
Once it is hot enough, you can check the sauce viscosity. If you want a thicker and creamier mix, you can pour in the rest of the thickening agent.
How to make thick and creamy cheddar cheese sauce?
Ingredients:
1 cup 1% low-fat milk, divided
4 teaspoons all-purpose flour
¼ teaspoon salt
1 ½ ounce sharp cheddar cheese, shredded (about 1/3 cup packed)
¼ teaspoon freshly ground black pepper
Directions:
Combine 1/4 cup milk and flour in a saucepan; stir with a whisk.
Stir in remaining 3/4 cup milk and salt; bring to a boil over medium heat, stirring frequently.
Reduce heat to low; simmer for 2 minutes or until slightly thickened, stirring constantly.
Remove from heat.
Stir in cheese and pepper, stirring until cheese melts.
How do you make macaroni and cheese thicker?
One way to thicken macaroni and cheese is to add more cheese. You can also try adding some flour or cornstarch to the sauce. If the sauce is too thick, you can thin it with milk. Finally, make sure to cook the pasta longer so that it absorbs more of the sauce.
Another way to thicken macaroni and cheese is to add a roux. To make a roux, you will need some butter and flour. First, melt the butter in a pan over low heat. Then, add the flour and stir until it is fully incorporated. Once the roux is made, add it to the sauce and stir until it has thickened.
You can try adding some cream cheese if you want a thick macaroni and cheese. This will give the dish a richer flavor and texture. You can also add some sour cream or yogurt to thicken the sauce.
Finally, make sure to cook the pasta longer so that it absorbs more of the sauce. This will help to thicken the dish and make it more flavorful. If you find that the macaroni and cheese is still too thin, you can add some bread crumbs to the top before serving. This will help to
Why is my mac and cheese soupy?
Your mac and cheese is soupy because you didn't add enough sauce or cheese to it.
When making mac and cheese, it's important to remember that the sauce will thicken as it cooks, so you don't need to add as much as you might think. Additionally, the cheese will also thicken as it cooks, so be
Why is my mac n cheese sauce not thickening?
>answer the question Why is my mac n cheese sauce not thickening?
What are 3 ways to thicken a sauce?
There are three ways to thicken a sauce: using a roux, using cornstarch, or using a slurry. A roux is made by cooking flour and fat together, while cornstarch can be mixed with water to form a slurry. Both of these methods will help to thicken a sauce.
If you find yourself in a situation where you need to thicken a sauce quickly, cornstarch is the best option. All you need to do is mix it with water and add it to the sauce. This method works well for gravies, stews, and soups.
If you have some time to spare, a roux is the best way to thicken a sauce. While it does take longer to cook, a roux will give your sauce a richer flavor and smoother texture. This method is perfect for cream-based sauces and soups.
What are the Best Mac And Cheese Brands?
Some of the best mac and cheese brands are Annie's, Kraft, Sargento, and Cabot. They all make different types of mac and cheese, so it really just depends on what you're in the mood for.
Additional Tips on How to Thicken Mac and Cheese
With any method, if the sauce becomes too thick while simmering, reduce the heat to low and add milk one tablespoon at a time while stirring until desired thickness is achieved.
Another way to intensify your mac and cheese texture is by adding more than one type of cheese. Keep in mind this technique might make your cheese sauce too thick with a strong cheese flavor.
If the cheese sauce becomes too thick, you can always fix it with a tablespoon of milk or water.
To get smooth cheese sauce with the right thickness, you need to add your cheese at the right time to avoid getting lumps. Grated cheese is actually much easier to add in than cubed cheese.
Remove the sauce from the heat source while adding your cheese to make things easier and avoid the risk of making mistakes.